Proper SEO requires three different technique branches. Technical SEO, On-Page SEO, and Off-Page SEO. Off-Page SEO is a critical piece of the SEO puzzle. With techniques like link building and many others, off-page SEO has cemented itself as one of the most important aspects of SEO.
Many business owners and marketers who are new to SEO, might not have ever heard of Off-Page SEO. Don't worry! You're not alone. 
In the blog below, there are many different examples of off-page SEO, and a breakdown of why off-page search engine optimization is important, and how it can help grow your website and business.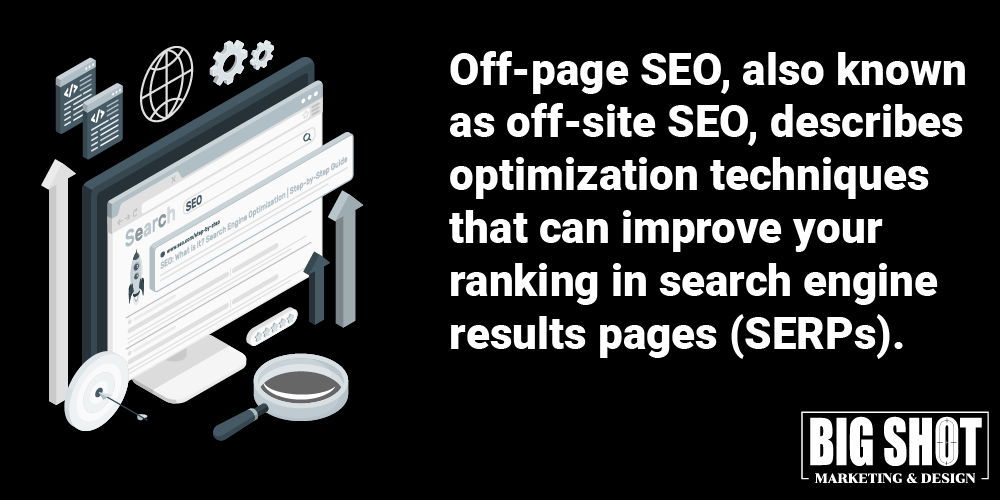 Off-page SEO is defined as optimization techniques that can improve your ranking in search engine results pages (SERPS). These specific techniques take place OFF your website in places like news articles, links, blogs, and social media posts.
Off-page SEO involves a lot of networking with people on other websites and social networks to share your website content and link to it. Getting links from other websites to yours increases your credibility and ranking on search engines like Google.
Off-Page SEO vs On-Page SEO
Off-Page SEO: Off-page SEO consists of generating links to your website by other people. It can be achieved through social media marketing, influencer marketing, and networking with blog writers and other website owners. For the most part, Off-Page SEO is out of your control.
On-Page SEO: On-page SEO consists of you creating new content on your website, and optimizing it for specific keywords and searches on Google. On-page SEO is totally in your control because you can determine what type of content you want to create, and how to optimize it best for your audience.
The main difference between off-page SEO and on-page SEO is Google uses your on-page SEO to gauge how relevant your content is, and off-page SEO to gauge how credible your content is.
Why Does Off-Page SEO Matter?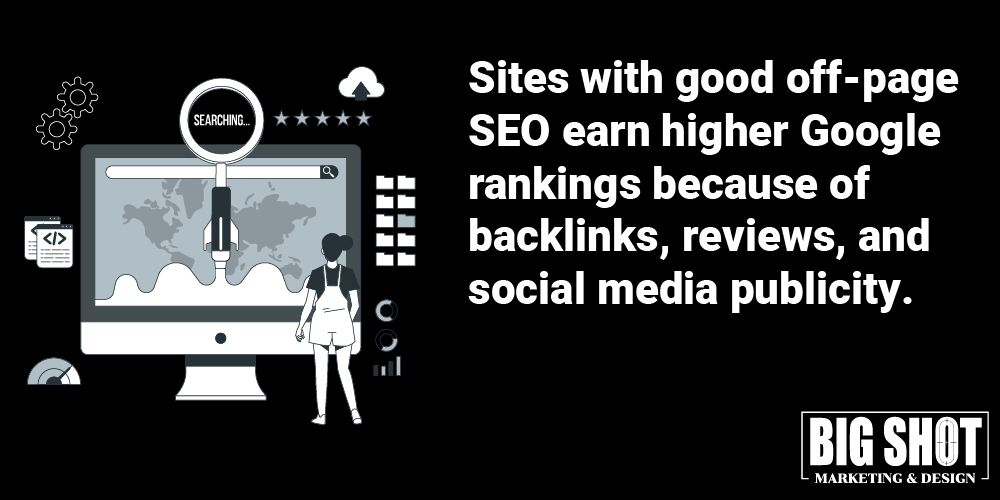 Off-page SEO is critically important to building credibility on the internet. Other websites linking to yours serve as proof that your content is worth viewing. Here's an example: 
You're looking for a nice Italian restaurant in town for an anniversary dinner. You're not sure which one to choose, so you ask your friends. They all tell you that Tony's Kitchen is the best Italian restaurant around. You have confidence that Tony's Kitchen is the best place thanks to the references you got from trusted friends. 
In terms off-page SEO, other websites are the friends, and the links to your site serve as references. Google and other search engines will see how many times your website has been linked by other credible sites, and rank you higher, since you clearly have something to offer, and can be trusted to produce quality content.
3 Types of Links For Off-Page SEO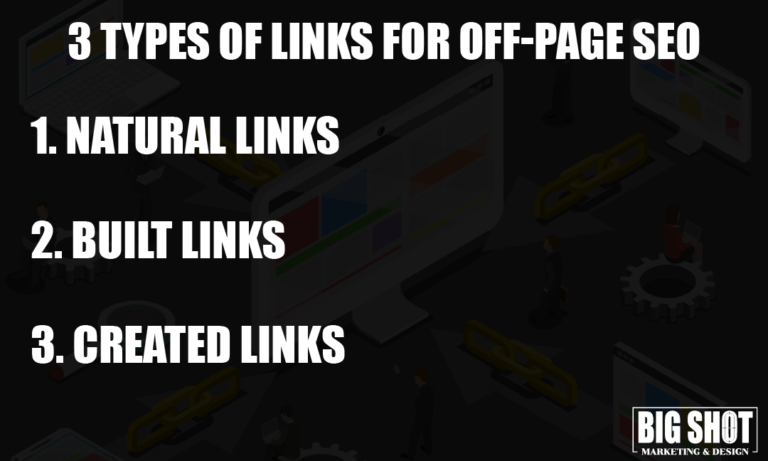 A natural link comes to your website naturally, without any extra effort. 
Your team doesn't need to network or share your content to get someone to link to it. Someone who was creating content for their own website saw your content, found it useful, and decided to link it to their page. 
Natural links are the easiest, and best scenario when it comes to link building.
Built links come to your website through outreach. 
Whether you gain the link from your marketing team reaching out to other blogs, news sites, or influencers, they are considered built links. 
Even though this link took a bit of work, you still achieved a good backlink to quality content on your website.
Created links refer to links your team created and submitted to forums, directories, or press releases. 
Search engines can see that these are not genuine links attached to quality content. Therefore, your site will not benefit (and may even be penalized) from created links. 
When it comes to link building, it's best to focus on natural and built links to build better off-page SEO.
6 Factors The Influence The Link Value For Off-Page SEO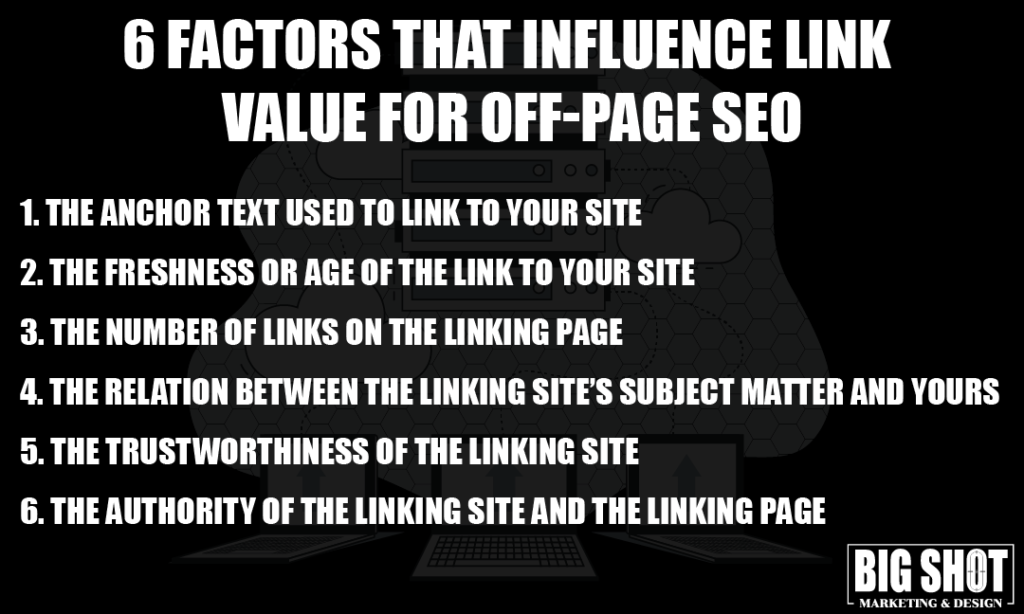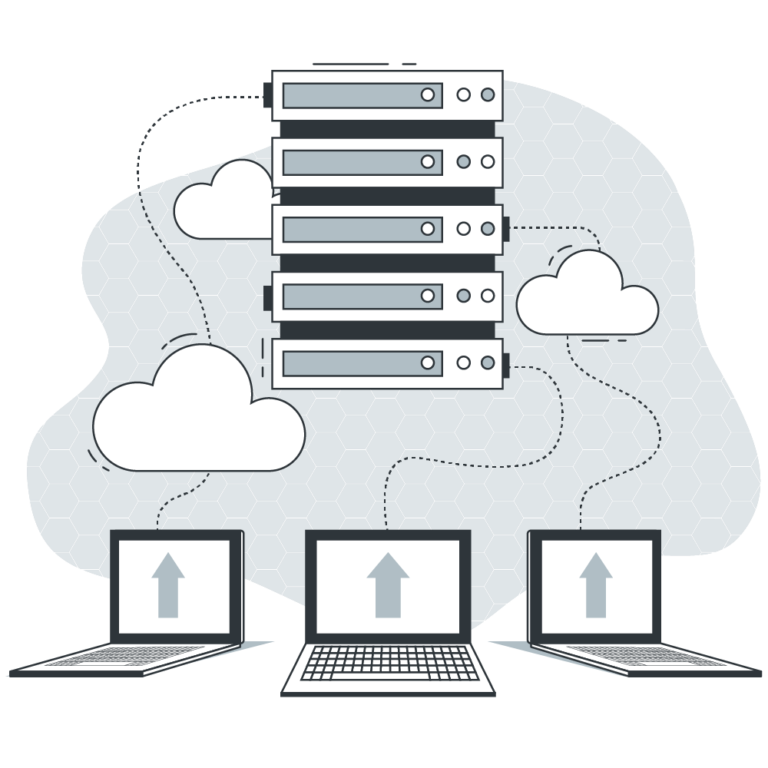 Link building is the most popular way websites generate positive off-page SEO. Generating natural links to your website from high-ranking sites will increase your website traffic and your rank on search engines like Google. 
Links help search engines rate your content in terms of credibility, and usefulness. Seeing other sites linking your content shows that your content is desirable and worth ranking higher.
So, how to get other websites to link to you?
Create Quality Content: In terms of SEO, quality content will always be the number strategy. Creating quality content (blogs, videos, tutorials, etc.) is the best way to generate interest in your website and make it worth sharing.
Join An Association: This could be anything from your local chamber of commerce to a business association in your area. Joining these associations usually comes with a link on their website with relevant content to your business. It is also an effective way to share your content with those in a similar industry to your own.
Share On Social Media: Use your social media profiles to share the content on your website. Sharing blog posts, infographics, and any other content on your social media profiles can not only generate traffic on your site but also generate interest in your content.
Reach Out: This is one of the more obvious techniques. Reaching out to other content creators and website owners about your content is an effective way to share your content and generate links. Many SEO websites (Semrush, MOZ, AHREFS) have tools that help you reach out to another website relevant to your own. Connecting with similar websites is a great way to enter into a beneficial linking relationship and improve your off-page SEO.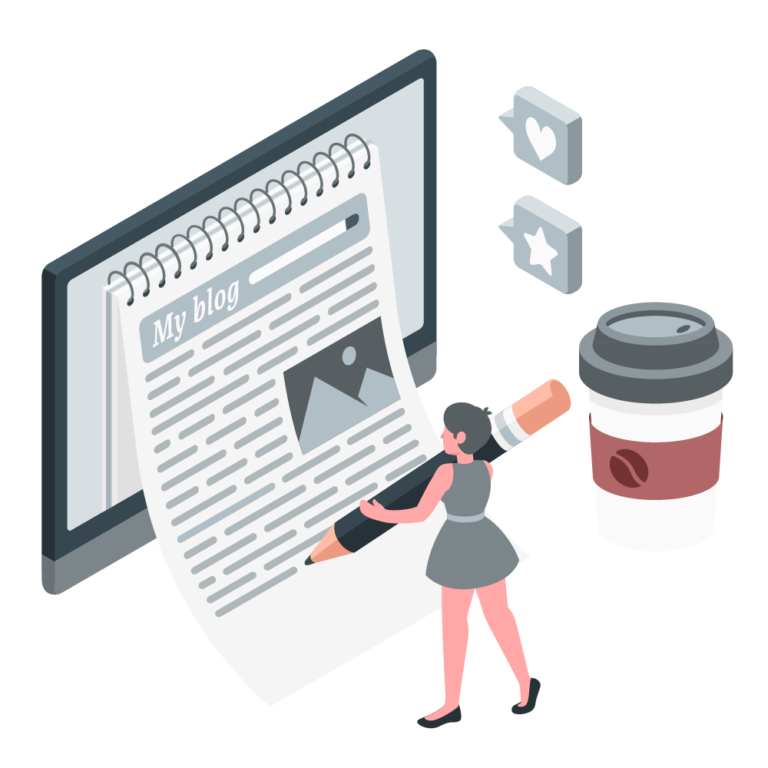 Blogging isn't just a way to improve your on-page SEO, but it also helps your off-page SEO! Writing blogs on interesting topics is a great way to create content people want to link to. Take this blog for example. We've generated a lot of content about off-page SEO that we hope someone will one day link to! Your website's blog should never be dormant. Creating good blog content is a great step towards good off-page SEO.
Continuing to post on your blog will show you are an expert in your niche. It'll help you grow your own audience of people, and eventually generate higher domain authority. 
While social media links don't help with ranking, they are a great way to help spread the word about your content. Sharing your blogs and other website pages on your social media profiles will help other people see it, and lead to more traffic and backlinks down the road. 
By continuing to share information through blog posts, you can turn your website into an information resource people can visit and link to when they need more information on a speciic subject.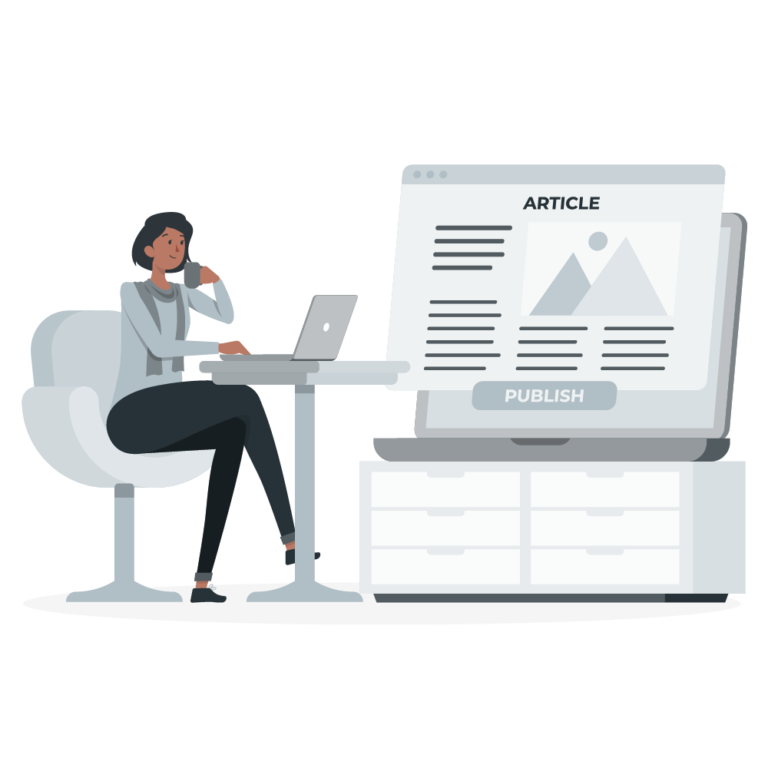 Guest blogging on popular publication sites is a GREAT way to build links to your website. 
There are countless publication websites on the internet. Find one in your industry, and write a quality post specifically for them. Then, pitch them your article for it to be published! You can include a link to your website in your guest post. So, when it's published, you've gained a valuable link from a high-ranking website in your industry! 
Need Help With Your SEO? Get A Free SEO Audit Now!